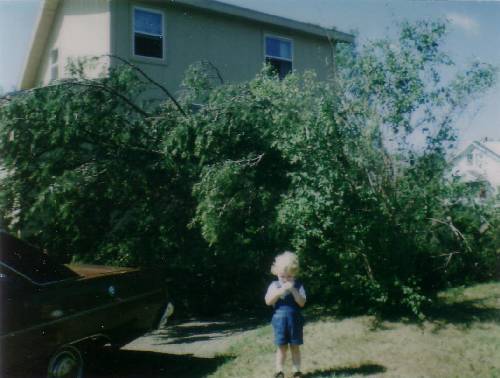 Lukas Hoffland at age 2, the day after the July 15, 1980 windstorm, next to a downed tree outside his 1980 residence. (Photo taken by Penny Engrav-Hoffland.)
LukasLight is a company started by Lukas Hoffland, author of "Spearhead Echo: The Storm Of 1980". LukasLight is a company that will focus on publishing multiple forms of media, including books and music. LukasLight is based in Eau Claire, WI.
Lukas Hoffland is a resident of Eau Claire, WI. He is currently a Promotion Director/Webmaster/DJ for WIAL-FM/Maverick Media in Altoona, WI. Lukas is holds a Bachelor of Arts degree in Vocal Music Education from Luther College in Decorah, IA. Lukas is also a professional musician, having sung in many high school and college choirs, including's Luther's Nordic Choir, as well as being one of the founding members of Luther's Vocal Jazz ensemble. He currently sings in The Master Singers in Eau Claire.